Ok im not creative enough to come up with whole chapters etc but i just wanted to get some opinions from guys with a sense of humour, and btw, apologies for the poor pics....
First up is my Wolfguard. He lost his arm to a Fenrisian Wolf and admired the beast so much for its strength that when he killed it he had the Iron Priests turn its head into a Master Crafted Powerfist. Much 'hand puppet mockery' has ensued since i started using him on the table.
And next up....with the current Fluff stating that the Orks are fighting the Nids, just what are all those Mek's gonna do with no Tanks to loot? Well heres my idea. Its an Ork Dreadnaught (fully game legal and yes i do use it in games) made out of a Carnifex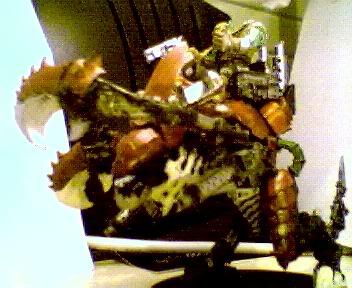 All comments and general mockery welcome.