DANTE'S REJECTS
(pics to come soon) [Pics up since jan 6th)
(Up dated agian march 3rd more pics soon)
(Updated includes army listing please tell me how good the army is or die)
Sometime before the cursed founding, Fabius Bile (who was disguised as an imperial apothecary) did some experiments on the gene seed of the Blood Angels, the main goal of these experiments was to give them reproductive organs. But since he was using already corrupted blood angel gene seed, there were some...negative side effects. Mainly being that a once proud chapter became a group of drunk, lazy, lecherous, cowardly frat boys. The failed experiments were found, but not before Fabius Bile escaped to the eye of terror. Chapter master Dante couldn't bring himself to purge his own men especially after their bravery in the past, so he exiled them to the planet Baalz.
Baalz is a harsh arid desert planet, and the perfect place to start a new chapter of rejects. Contrary to popular belief, the Rejects are not mentally retarded, they just do whatever takes the least amount of work. They dont care how many people they wound or kill. Because they are not up to par with technology, for Deep Sriking, they kick the protesting soldier out of the Thunderhawk, and hope he lives. A chaplain once had the idea to have their own orbital strike by dropping Land Raiders and Rhinos on the enemy. This was quite effective, but they often hit their own squads. Dreadnoughts are used in this manner for high priority targets.
Dante's Rejects way of obtaining new squads is unorthodox to say the least. They take drifters and deserters off random planets, and put them through "extreme" training. This involves playing games like trying to flirt with the Sisters of Battle or the SOB's, and playing target practice with Imperial Guardsmen.
Other Space Marine chapters have learned at great expense, that when Dante's Rejects enter the battle EVERYONE gets hurt as friendly fire reaches a maximum. Once they took out a whole squad of allied Terminators with a Vindicator. Their motto being: "If it isn't broken we'll break it." Their krak grenades consist of blocking up a plasma gun with a cork, firing it, and quickly throwing it at the enemy. Their favorite Space Marine squad to kill "accidentally" is the Lucky Irish. This squad consists of Ultramarines painted white with green spots!
On account of causes having to do with the SOB's and a random Eldar strike force, one of the Rejects sergeants is a girl. Katie was a strong fighter until she was struck down in battle during a fight with Chaos. A Bloodthirster cleaved her in two with his chainaxe. The Rejects placed her dying, broken body carefully in a Dreadnought. She became the unofficial leader of the Rejects main strike force. Later on in her career, she lost the use of her arms due to "metal fatigue" during a battle with necrons. A new dreadnought was acquired, but it came with two left arms. (This actually happened in real life) A new part has been ordered.
And here are some pics . (The current pics are taken over my freinds house with a realy stroung light in the back round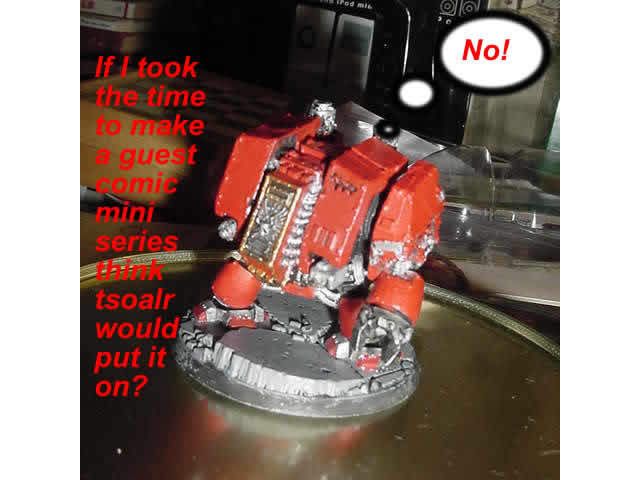 HQ
Blood Angels Chaplian 290
-Deaths comapany-free jump pack for having deaths company
Blood Angels Libraian 90
-Jump pack-Familer-(Power not included I can never decied which one I want)
ELITES
Furiouso Dreadnought (A.K.A Katy) 95
Techmarine ??
-Full servo harness
Assualt Terminators 200
TROOPS
Tactical Scouts 144
-All sniper rifles except for one heavy bolter
Blood Angels Scouts 130
Tactical squad "A" 190
-Rocket Launcher-Plasma Gun
Tactical squad "B" 190
-Plasma Cannon
Fast Attack
Land speeder 80
Assualt Marine squad "A" 189
2 plasma pistol Vet Serg with power weapon
Assualt Marine Squad "B" 191
2 Flammer Vet serg wtih power weapon
Heavy Support
Vindicator 150
Power of the machine spirit
[ile post the next pics soon]